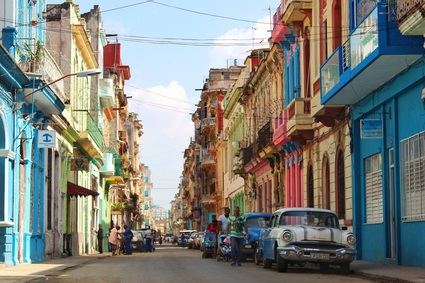 Recently, I was fortunate enough to travel to the remote, untouched island of Cuba. From the moment I left the airport in Havana, I knew this would be a trip unlike any other that I would ever experience. I was in awe of the colorful architecture, classic vintage cars and city's glowing energy.
For those who are not as familiar with Cuba's history, here's a brief summary. From the late 1920's to 1950's, Cuba was known as the island of sin. Tourism was booming because wealthy Americans, celebrities and mobsters could travel from Miami to Cuba for about $50 which included flight, food and hotel. While in Cuba they would enjoy lavish hotels, night clubs, golf clubs and casinos in a scenic, tropical location. During this time only a small percentage of Cubans benefited from this extravagant playground. Majority of the country was severely suffering from dictatorship, corrupt public officials, the hardships of a one-crop economy and high unemployment.
Fidel Castro and other Revolutionary leaders despised what Cuba had become and in January of 1959, they overthrew Cuban dictator, Fulgencio Batista. Their mission was to rid the country of the class system so everyone would be equal, which resulted in widespread Communism. Castro gave all American-owned homes to the Cuban people and fostered a relationship with the Soviet Union, who was America's rival in the Cold War. The United States decided to sever ties with Cuba and enact the trade and travel embargo in 1963, which lasted until 2015.
With the embargo in place, Cubans no longer received goods and supplies from the U.S. and by becoming a communist society everyone earned the same amount regardless of their profession. They received about $40 a month, which diminished purchases outside of necessity. As a result, Cuba became locked in time. Homes were not renovated and without goods being shipped in, car models remained from the 1950's and earlier.
Our main goal with traveling to Cuba was to experience the country's untouched state before it begins to evolve with tourism from the lifted embargo. In order to do this we decided to completely submerse ourselves into the culture. We focused on traveling along the south side of the island where tourism was less prominent, stayed with locals in casa particulars and embraced the local cuisine.
A casa particular is a private bedroom for rent in a local's home, similar to bed and breakfast. Breakfast was offered by the owners which consisted of eggs, ham, fruit and coffee. Meals were pretty simple everywhere we went. Dinner at restaurants usually consisted a meat, rice and beans, salad and plantain chips. One of my favorite dishes was a popular Cuban dish called ropa vieja, stewed beef with vegetables.
Although history between America and Cuba has been pretty rocky, the locals could not have been nicer to us. We were welcomed and assisted with anything we needed. Most Cubans spoke little to no English but we did not have too much trouble communicating.
There was so much beauty to see walking through the city streets of Cuba. People were out everywhere visiting with friends, selling fruit and onions from carts and driving pedicabs. There was very limited access to internet services so you rarely see people consumed with their phones which was a nice digital detox for us. The crumbling buildings that surrounded us held an allure that made me imagine how spectacular they must have been in their prime.
Overall, I highly recommend anyone who is interested in traveling to Cuba to make the trip. Crime rate is extremely low and we felt very safe everywhere we went. It was such an amazing experience to see first-hand how people are living in this time warp.
If you would like to read more about Cuba's history, I recommend checking out this article. There are amazing photos included.
http://mashable.com/2014/12/24/havana-before-castro-revolution/