I always say you can never meet enough interesting individuals on this earth. Motorsports definitely has its endless variety of cool people . While in Ireland I had the chance to catch up with a new and upcoming racing talent by the name of Sean Doyle. This young lad was based out of one of the only racetracks in Ireland, Mondello Motorsports Park. I was intrigued not only to get to know this LeMans driver, but to also experience Ireland's motorsport scene. I jumped in my right hand drive Renault rental, and headed to Mondello motorsports park based in Kildare, Ireland.


I'll tell you one thing, if I could point out an aspect of the Irish people, kindness and hospitality would be a driving factor in defining them. Not only did Sean reserve his day to hang out with me, his boss Ken Elliott reserved the whole track for us and gave us keys to a Porsche 996 Track car to do some hot laps in.




However lets first get to know this young feisty Irishman who's been known to have a heavy right foot.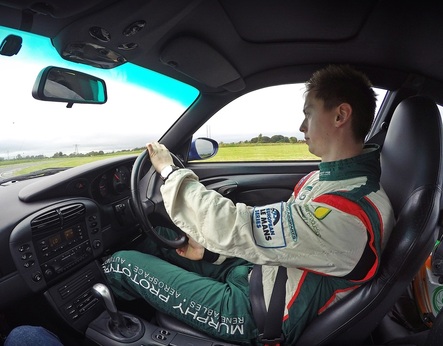 1-Name: Sean Doyle

2. Age? : 22 nearly 23

3. Nickname? Jeebs, the guys in the race school in Mondello christened me that

4. Birthplace? Wicklow, Ireland

5. Favorite Food? Pasta

6. Your current job? Race instructor, Work with Murphy Prototypes as well as racing with them.

7. Hobbies outside of racing? I like the gym and Sim driving

8. How did you get into racing? I got into racing after doing my work experience in Mondello park at the age of 13/14 which it's something we do in Ireland in 4th year of secondary school.

9. Have you always had a passion for speed? If so how? Yes I've always loved speed, as a child on holidays with my family I always loved the big engines roar ( as in Europe we don't have big engines like that) I always remember going to the dirt ovals and watching the legend cars going around so I suppose my need for speed came when I was abou 3 or 4 y/o in the States

10. What was your first car you've driven? My first race car was a 1.0L Nissan Micra, road car was a Renault Megane…..

11. What is your dream car? I would like to drive a nice Porsche Turbo or maybe an M6 BMW

12. How did you get into racing European LeMans? What was your first time out in an LMP car like? I met the team Owner Greg Murphy at a corporate event he did in Mondello with his sponsor Hertz, he asked me to come to a race with the team see what it's like, I went for the whole season helping out the team traveling around with them and then my opportunity arose at the start of 2016 to drive in the world famous Silverstone. The first time to drive the Oreca 03-R LMP2 car was amazing, I remember exiting the pits and the feeling of been pushed back into the seat was unbelievable, I always find it difficult to explain to people just how amazing that feeling was, it's something I will hold onto for a long time.

13. Tell us in a short paragraph what your dreams/goals are as a racing driver – My ultimate goal in racing is to make a profession from it, I don't want to be famous I'd like to be able to make a steady career out of it and be comfortable, I'd like to search for opportunities driving in America as I've always loved it there and the racing looks to be very competitive and awesome.

14. How has Mondello race circuit influenced you? Mondello has been a big part in my career so far. I started racing there when I was 15 or so and have raced there quite a lot since, I've learned a huge amount of car control and race craft there. I also work there as a race instructor so I'm always going around teaching people which I find very beneficial for my driving as it keeps me on my toes

15. Have you had any close calls with racing? a few but that's racing ;)

16. If you can give advice on to anyone who is wanting to get into racing or motorsports in general what advice would that be? I think the first thing when getting into racing is the support from your family, I've had a huge amount of support from my friends and family, you know they're there to help and support you when the going is tough and without them I would have found it very difficult to continue to succeed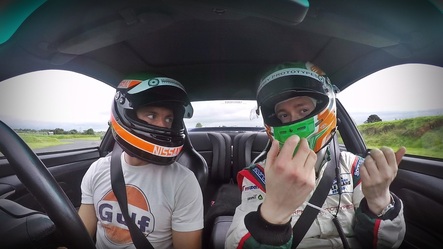 After spending the morning both in the pits and on track throwing a right hand drive Porsche around for some hot laps with Sean. It's safe to say this kid has one primary passion in life, and that is racing. The entire Mondello Motorsports park is an breathtaking track, with an endless amount of amenities. The track layout its self is fantastic, with the perfect amount of tight turns with tricky apex points, high speed sections to really open a car up. Just take a look at their racing schedule and you'll see these guys like to party behind the wheel. It felt like a mini Nurburgring. Just when I thought it couldn't get any better, Ken Elliott asked if I wanted to see a garage with some goodies in it. When does any gearhead say "no" to garage full of goodies? Little did I know I was in store for the viewing dream of car gods.

When he unlocked that shop door and flipped on the shop lights, my jaw hit the floor and the drool started flowing. I couldn't believe the cars in this collection. BMW M1 procar, Porsche 962 Dauer LeMans, Ford RS Cosworth rally car, Jaguar LMP race car, vintage F1 cars. The list went on. Literally millions of dollars worth of metal in one garage. It was the dream of car gods. I didn't want to leave, I just simply wanted to find a chair, and stare for the remaining week, regardless of food or water. That officially was the cherry on top of the sundae for me.
My time with Sean and his fantastic team at Mondello raceway had come to a close. I am forever grateful for the time they took to spend with me and the experiences that they provided. They truly are a Breed of Speed.
Until next time,
"When in doubt, throttle out!"- Drifto









tags: breed of speed , nathan finneman , sean doyle , mondello raceway , racing , ireland motorsports , porsche ireland, travel ireland , drifto ,