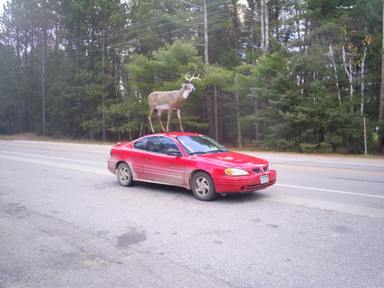 We all have random moments in our lives. Some big, others not so much. However this particular event takes the top 10 most random journeys in my book. It all began with the most expensive website an aviation buff will visit. It's called "barnstormers.com" and its essentially a "Toys r us" for adult aviation nutball's.
Our browsing led us to a plane for sale that caught our eye. It was an FP303 low wing airplane. Not the first choice of aircraft by many, underpowered and slow, but it was priced at a number too good to be true. I contacted the guy the next morning with hopes it would still be for sale. After talking with the owner about the plane and finalizing details, it was time to make the journey happen.
I gave my buddy Kevin a call and asked him "wanna drive to Texas to pick up an airplane". I received the typical "hell yes" from him. The car of choice for this journey was his beastly 2001 Pontiac Grand Am with 240,000 miles on the clock. This car has been through war and back but it was trust worthy.
That night we packed up, hooked up my flat bed trailer and we were Texas bound.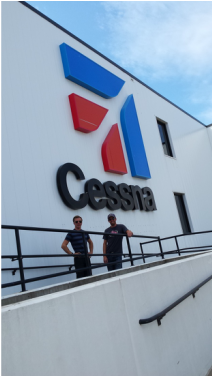 I took the night shift, good music selection, and a mind that never slows down is a recipe for driving at night. Morning arrived and we had crossed halfway through Kansas. Along the way we stopped at the Cessna factory in Independence, Kansas in hopes of test flying a new 172. That wasn't going to happen, but cool place nonetheless. Back on the road we were, we had to make Corinth, Texas before dark. Back on the road we were, the excitement was building. Thoughts of flying this plane, the adventures, the sound, the feel of the controls, all cross your mind repeatedly. Also the thought of, does this plane even exist? does it run? were the photos the guy sent me even the actual plane? Thoughts like this cross your mind, i'm a veteran of craigslist deals, and i've seen just about everything imaginable. People will do anything and say anything for a buck. My goal was to stay positive.



Several hours later we arrived to our destination of Corinth, Texas. The sun was setting, we were loosing light and I wanted to see the plane. As the owner greeted us, there I saw the plane in the back. I was filled with excitement. She was rough around the edges, but she fired right up, hearing that Continental engine was music to the ears.
I handed the man cash, and then we were confronted with the dubious task of figuring out how to mount this plane on to this small flat bed trailer.
It was quite comical when the owner looked at us and our trailer. I would of loved to of known what he was thinking. I'm guessing in the area of "these guys are freaking nuts,thinking they can put that plane on that little trailer".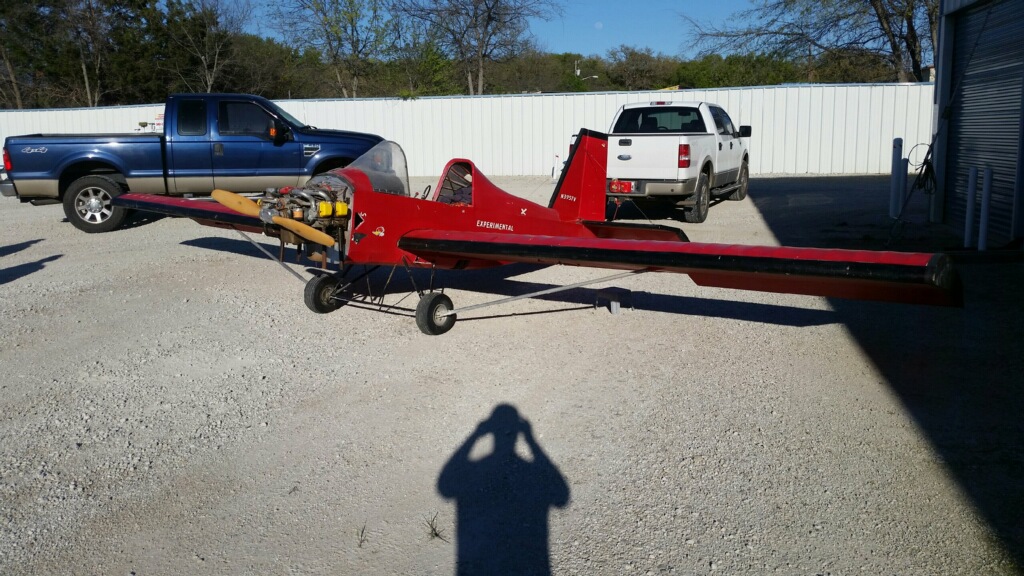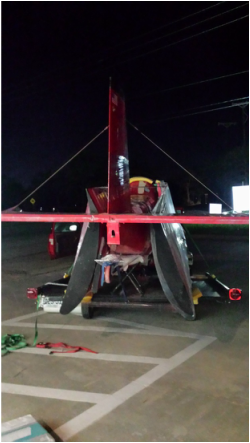 An freaking nuts we were. Trying to fit this damn plane on the trailer with the wings was an absolute pain in the a$$. 6 hours later, 15 tie down straps, 4 pillows, 2000ft of shipping suranwrap, 5 feet of foam padding, she was not going anywhere, or so we thought.
50 miles into the journey home, the wings came loose from their hold and if I didn't look back at just the right moment, we would of been driving home with a paper weight of hopes an dreams. Once again we resecured everything, double checked tie downs and watched the rear view mirror like a hawk. This was a battle of wind, vibration and nonsense that persisted several more stops throughout the trip, but we slowly figured out this plane securing business once and for all.


The rest of the journey was going smoothly, the plane was holding tight, Kevin's car was running like a champ. All was good except a growing concern of the developing weather ahead of us. I knew a storm had blown into Colorado. What we did't know is that storm had grown considerably and was now in northern New Mexico, and we were directly in its path.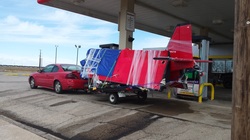 The closer we drove to Raton, New Mexico, it was becoming apparent we were in for a long ride. The temperature plummeted, the clouds grew even darker, and the snow began to pick up. We arrived in Raton, a large number of people were at the gas station, just hanging out. Something was going on, then a gentlemen filling his truck next to us asked, where were we headed with that plane. I told him Colorado, he then told us that all of I25 and Raton pass was closed due to the blizzard/white out conditions. He then told us that every hotel in Raton was booked up, and the local church was allowing people to stay there. I was angry, we got so close to our destination, yet a storm had just stopped us in our tracks. I looked at the map again, watched the radar and found a route that was 2 hours out of our way on county roads , with questionable conditions and no plow services. It was a gamble, but I sure as heck wasn't going to sit around and wait for this giant storm to pass, it could days if all we know. We filled up the car, and headed north east on our new destination.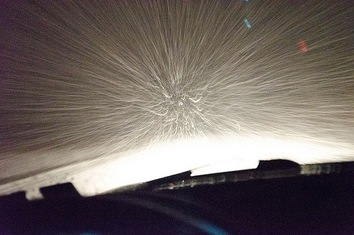 80 miles into the drive the conditions were getting bad, a few cars that followed us I saw turn around and headed back to town. The snow was falling so quickly that I couldn't see the road lanes anymore, and had to drive the center of the road hitting the markers to help guide me. I've driven in some bad weather in my time, but when you have questionable tires, and an airplane in tow behind you, it can complicate things. Hour 3 into the journey, a big sign of relief had came, the snow was slowly subsiding. The plane was covered in ice so heavily I was worried about damaged, but we couldn't stop, we had to keep going.
We finally arrived in Denver at 2am, you could say I slept well that night.


This journey had to quite possibly the most random and last minute trip of my life, but we had made it. It's moments like this that define who we are, how we deal with situations and grow from problems that arise. The plane had made it home safe and sound, we finally got her in the hangar and she was essentially unscathed.
Kevin and I came to the conclusion, if we ever buy another plane. We are flying it home!
-Drifto