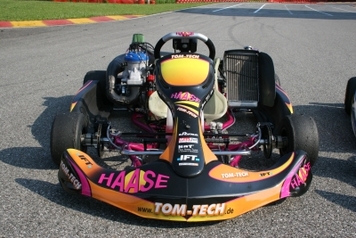 The MEGA R01 kart engine has been on the market now for a few years, but with it now gaining popularity in Europe, and more recently in the USA, we thought we would have a closer look at it.The MEGA R01 is a high performance 650cc (Yes 650cc!) two stroke, single speed, water cooled TAG kart engine with an impressively compact design and a reasonable weight of 26 kg for the complete package.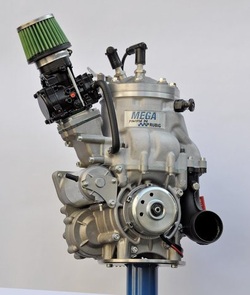 The engine has the highest possible power to weight ratio, with the total kart and engine package weight coming in around the same as DD2, but with 65hp at 6700rpm and a massive 73Nm of torque at only 5800rpm! .No need for gears with those figures, the centrifugal clutch does the work for you. The engines size creating vibrations is counteracted with the use of two balance shafts. The package runs an inboard drive set-up and 428 chain, a large rotax style exhaust system, that runs from the front of the engine and wraps around and then across the back of the kart, this was done to allow room for such a long expansion chamber required for the 650cc capacity. This then tucks back underneath to a silencer similar to a KZ2 set-up. The radiator is of similar size to a KZ2 and the system runs an axle driven waterpump. The best feature of all for such a big capacity engine is the onboard electric starter.


What are my thoughts on this machine after some serious laps on it? Absolutely bonkers! But a controllable bonkers. The power was out of this world, but it was smooth and a real joy to drive. The type of power you could put down some solid lap times, or just drift it in every corner possible. Very impressed with this motor. You almost need a large track to truly let this motor breathe. I approve, and I'm pretty sure anyone else who likes ridiculous gobs of power in a gokart will too. This is the motor!