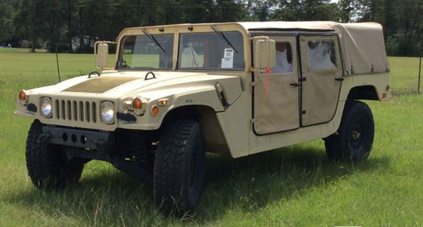 Hundreds of Humvees are being made available at surprisingly low prices.
In what may be one of the ultimate military surplus sales of all time, the government is liquidating a lot of decommissioned Humvees, and the prices are a lot more affordable than you might think.
Govplanet.com is helping host the sale
, and hundreds of hummers are being sold all across the country. Surprisingly, some are going for as little as $4,000. Not bad for a piece of former military hardware. Some appear to be in better shape than others, but there are a lot of photos for each listing.There are a couple catches, however. First off, you need an end user certificate to finalize the sale. A EUC just means you are the last owner. The EUC is required because the government obviously doesn't want these machines going overseas to U.S. enemies.
The other catch? These Humvees don't come with a title, and they're being sold under the designation as being for off-road use only. But don't let that be the deal-breaker if you've always wanted one! You can still pick up a sweet ride for cheap, although you will have to likely endure a lot of time and headaches with the DMV to make your new vehicle legal.
tags: military , humvee cheap , nathan finneman , h1 , hummer , h1 sale, off road, breed of speed