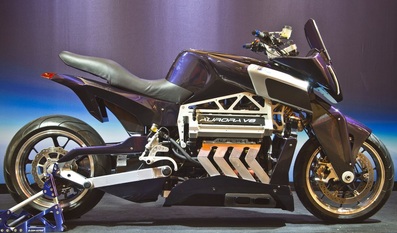 That's right, you're looking at a 2575cc liquid cooled DOHC V8 monster that produces an insane 417 horsepower. Is it Australian? It's a V8, so of course it is…While it's certainly not the first V8 powered motorcycle that we've seen from 'Straya, it's definitely well worth having a closer look at. Designed and engineered by former Australia superbike and sidecar racer, Vincent Messina, and streamlined by Tim Cameron, the Hellfire OZ26 dubs it's arrival as "the dawn of the ultrabike," and with figures that boast 417 horsepower and 235 lb – ft worth of torque, perhaps the term "ultrabike" isn't too far off…
The Aurora Hellfire OZ26 sports a Hossack style front end, and an Ohlin's mono unit at the rear complete with a multi-link setup. We'll talk about the engine in a second but first, it's worth mentioning that the Hellfire comes with loads of on board goodies including ride-by-wire, special traction control and four preset riding modes (sport, touring, wet and a fully custom channel). The awesome five speed gearbox can be operated by foot controls or handlebar mounted buttons. The brakes are from Brembo, specifically GP4RX four piston calipers with carbon ceramic discs.The engine itself is nothing short of a beast, boasting a full 2,575cc of liquid cooled fun, with the V8 also sporting 4 valves per cylinder. Horsepower? 417 at 9,500 rpm. Torque? 235 lb –ft at 7000 rpm. Top speed? Somewhere north of 211 mph (that's all we know at the moment). Acceleration? Again, we're still in the dark about that one but since the bikes dry weight it only 585 lb, we'd imagine it's pretty rapid.


At the moment, Vincent Messina is on the lookout for funds to build a limited run of these bad boys. If you're looking for something truly unique to rip around on, you might want to give him a call. My advice though? Make sure he sorts out the back of the seat, it jars the ol' eyes in my opinion. Apart from that, it's a stunner!

Here are a couple of videos to get you in the mood. Mute the first one though, unless you want to hear 80s style montage music, but turn the second one up. They've got the Hellfire on the dyno, and it sounds superb.