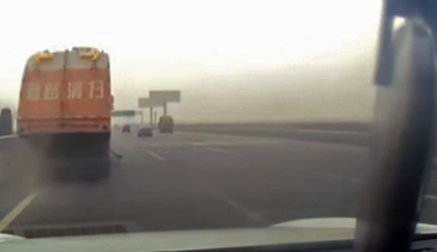 Tesla Motors came under renewed questioning about the safety of its Autopilot technology after news emerged on Wednesday of a fatal crash in China that may have occurred while the automated driver-assist system was operating.

The crash took place on Jan. 20 and killed Gao Yaning, 23, when the Tesla Model S he was driving slammed into a road sweeper on a highway near Handan, a city about 300 miles south of Beijing, according to a report broadcast on Wednesday by the Chinese government news channel CCTV.

The report includes in-car video looking through the windshield as the car travels in the left lane at highway speed just before ramming into a parked or slow-moving orange truck. The video, apparently shot by a camera mounted on the rearview mirror, recorded no images, sounds or jolts that would suggest the driver or the car hit the brakes before impact. At that point, the in-car video ends.

"When it was approaching the road sweeper, the car didn't put on the brake or avoid it," a police officer said in the CCTV report. "Instead, it crashed right into it."

In an emailed statement, Tesla said on Wednesday that it had not been able to determine whether Autopilot was active at the time of the Handan accident. The company declined to say when it learned of the fatality in China, or whether it had reported the crash to United States safety officials, who are investigating a fatal accident in Florida on May 7 in which Autopilot was engaged.