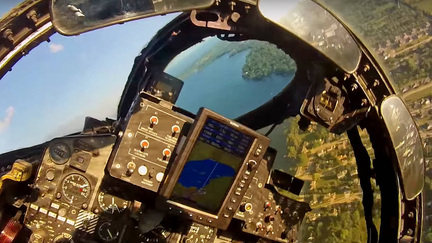 As the USAF's QF-4 Full Scale Aerial Target program winds down the jets and their pilots are making the rounds on the airshow circuit one last time. In July a pair of QF-4s attended America's largest airshow, EAA Airventure in Oshkosh, Wisconsin. Our friends at
Airshowstuff.com
covered their final appearance at the show brilliantly, including capturing some awesome headcam footage of the pair of jets wheeling around the sky over Wittman Regional Airport.
The first video below starts with a section of QF-4s on the runway, and quickly the pair start their formation takeoff roll and climb out with the jet's General Electric J79 turbojets in burner the whole way. You can see the pilot constantly cross check his formation position and his instruments throughout the departure. The Phantoms then proceed with a series of flybys. The second video shows the view from the ground of their maneuvers. The third video is of the Phantoms arrival from the cockpit point of view, and fourth includes a downright exhilarating series of flybys.
Warning, these videos contain gratuitous amounts of afterburner!By the end of November the QF-4 will have been totally retired from USAF service and the 82nd Aerial Targets Squadron will complete its transition to the QF-16. The remaining QF-4 airframes will be dragged out into the desert and used as ground targets.
You still have three opportunities to say goodbye to American F-4s once and for all. The QF-4s will be making the following appearances before bowing out:
14-17 Oct – Ft. Worth, TX
6 Nov – NASCAR Sprint Cup Flyover at Texas Motor Speedway
10-14 Nov – Nellis AFB, NV
tags: Nathan Finneman , breed of speed , breedofspeed , f4,