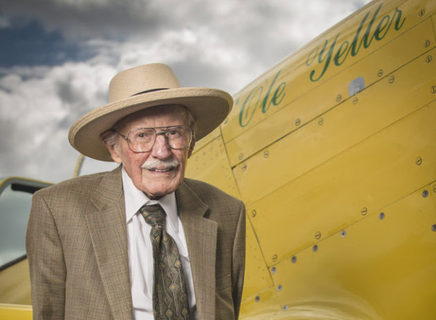 One of the greatest pilots in the history of aviation died this morning, according to reports.

Bob Hoover, a World War II fighter pilot, a former Air Force test pilot, and the chase plane pilot for Chuck Yeager when he broke the sound barrier for the first time, was 94.

A few years ago, the Federal Aviation Administration tried to ground Hoover, saying he was too old to fly. Aviators throughout the world shrieked with outrage until the FAA relented. Many of them had seen his famous air show act, which he performed with both engines on his plane turned off.


In 2012, a pilot in a P-51 ran out of options when his landing gear malfunctioned. He'd tried everything to deploy it but nothing worked.

Officials tracked down Hoover by telephone, then patched him in to the pilot of the stricken pilot.

"Boot enough rudder there at landing gear down speeds, get a side load on it, it would force it out and into the locked position," Hoover said. "I've been there, I've done that a couple of times."

Jeanes, on the phone from Dallas to Hoover in Los Angeles, encouraged Gardner to keep trying the maneuvers over Mobile Bay. "Just slip it, skid it, yaw it, whatever you have to do to get some air under the door."

It worked. The landing gear deployed and the pilot landed the P-51 safely.

Having been shot down in World War II, he escaped near the end of the war by stealing a German fighter.

Had he remained at the POW camp a few days longer, the Allies likely would have reached him. But now he faced possible extinction at the hands of any friendly pilot who would presume his Focke Wulf was manned by the enemy.

Hoover said he hugged a cloud ceiling at about 4,000 feet, figuring he would duck up into it if he was spotted by any Allied aircraft. He planned on flying west until he saw signs of Allied territory. "I wanted to see windmills to be sure," he explained. That would signal friendly Holland.

By the time he reached Holland, Hoover said, "My gas tank was registering close to zero." He chose to land while he still had full control of the fighter, and selected an open field. Hoover dropped the fighter's landing gear and settled in.

A ditch suddenly loomed ahead, and Hoover said he did not want to end up trapped in a German fighter on its back, where the Allies might not realize an American was inside. He said he "just reached down and sucked up the gear" to get the fighter to stop before tipping into the ditch.

Hoover said he wondered, "What the heck are you going to do now?" He didn't have to wait long. "All of a sudden pitchforks came at me from every direction," Hoover said. Dutch farmers who spoke no English were understandably angry with the man who emerged from the German fighter.

Providence intervened in the form of a British Army truck approaching. Hoover queried the truck's occupants: "I hope you can help me. I'm a Yank; they think I'm a Kraut!" With perfect British aplomb, the soldiers whisked Hoover to safety.

Hoover said he did not consider his actions in escaping to be heroic. "I was no hero. I didn't do anything but be stupid," he chuckled. Hoover said, "It's a stupid story. For about a year and a half I wouldn't tell anyone that story." But word got out years later at an air show, and Hoover acknowledged his feat, albeit with disarming self-criticism.

In 2010, Hoover delivered the Charles Lindbergh lecture at the Smithsonian Air & Space Museum.

With his death, it's safe to say the nation will likely never hear first-hand stories like this again.