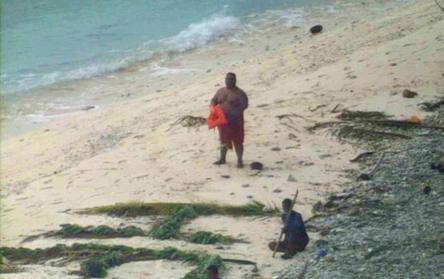 Nathan Finneman : The U.S. Navy officer in charge of a flight crew that located three castaways on a remote Pacific island said Monday he has never seen or heard of another rescue quite like it. The stranded men, who were reported missing last Tuesday after a wave overtook their skiff, were found on a tiny Micronesian island on Thursday, officials said. The three had spelled out the word "help" with palm fronds after they swam to the deserted island when their boat capsized. "I've never seen anything like that, nor am I aware of anyone in our community seeing anything like that," U.S. Navy Lieutenant Commander John Harkins said during a telephone interview.

Harkins' crew was searching an area given to them by the U.S. Coast Guard when Petty Officer 3rd Class Garrette Odor noticed a strong return on his infrared camera. Harkins said the heat came from a signal fire the stranded men had built, but had already gone out.

The Navy crew began to fly around the island when Petty officer 2nd Class Justin Burns saw the word "help" scrolled out on the beach. About 15 seconds later, three men came running out of the jungle waving their orange life vests over their heads, Harkins said.

After spotting the men, Harkins' crew made several low passes in front of them and eventually dropped a smoke signal to let them know they had been found. "Initially they weren't so sure that we had seen them," Harkins said. "We made an effort to alleviate their concerns."

The flight crew first rocked the aircraft's wings, then made several low approaches before eventually dropping the smoke marker in the water in front of the men. "Eventually they actually started relaxing," Harkins said. "We have a photo of all three of them laying down, some on top of the 'help' sign."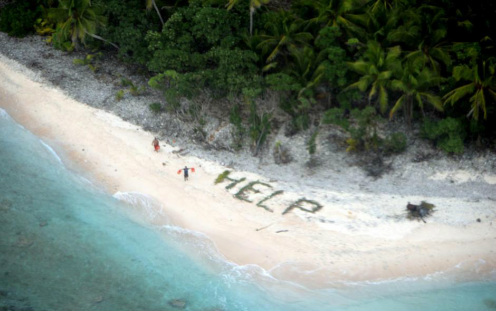 "Finding them on the island was not necessarily what we expected to happen," Harkins said of the mission. "We all stood up and gave each other high-fives." The men's families reported them missing Tuesday after they failed to show up at the Micronesian island of Weno, where they were traveling from their home island, Pulap.

The U.S. Coast Guard notified the Navy, and Harkins' crew began their search after a stop in Guam early Thursday. "Fortunately for them, they were all wearing life jackets and were able to swim to the deserted island," U.S. Coast Guard spokeswoman Melissa McKenzie said.

A local boat picked the men up and took them to back to their home island, which was only about 5 miles away from where they were found, Harkins said. The Coast Guard said it didn't have information on the men's condition, but officials told the Washington Post they were not injured.

The Navy crew followed the local boat back to their island, then made a final low pass and rocked their wings "to say goodbye," Harkins said. Two bulk carriers searched a combined 17 hours for the men as part of AMVER, a U.S. Coast Guard voluntary search and rescue program. With AMVER, rescue coordinators can identify participating ships in the area of distress and ask them to help.

In the last two weeks, 15 people have been rescued in the Pacific with the help of 10 AMVER vessels and six aircrews, the U.S. Coast Guard said.


tags : nathan finneman breed of speed breedofspeed navy rescue water island