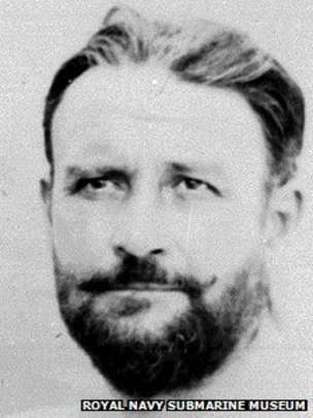 Capes was lying in his rack and drinking rum when he felt the explosion. As the stern shot up over the water, he was thrown out of his make-shift bunk just as the lights conked out and plunged him into darkness.


Using a flashlight, he made his way toward the engine room to look for survivors. He found corpses, instead. Water was pouring through the rubber seals, but he kept looking until he found three injured and stunned men. He led them out of the room, sealed the door, and gave them liquid courage from what was left of his bottle.

He took several Davis Submerged Escape Apparatus sets (life vests with oxygen masks and goggles) and distributed them among the men, but there was a problem. They were designed for only up to 100 feet from the surface while the depth gauge said they were 270 feet below.


Though the gauges turned out to be wrong and they were only 170 feet below, it was still too deep. They'd be without oxygen for the remaining 70 feet, but they had no choice. Nor could they just open the escape hatch since the pressure outside kept it shut. Capes had to flood the compartment by turning the starboard bilge valve, but it wouldn't budge.

So he tried the sluice valve where they fired flare guns to the surface, instead. Water poured in and rose around them. When the internal and external pressures had equalized, he undid the hatch bolts with a spanner. When it finally opened, Capes led the others out and swam up after them.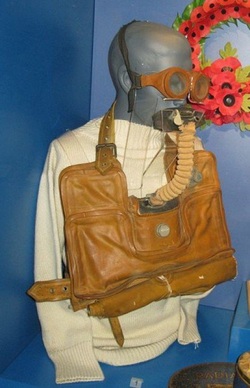 And now they faced another problem: the bends. Due to rapid pressure changes, gasses in the body bubble up and cause intense pain, paralysis, and even death. Terrified, he tried to slow his ascent, but it did no good. Pain slammed his chest – he didn't think he'd make it.

Somehow he did, but he was the only one. Seeing white cliffs in the distance, he swam toward them for 6 hours, made it to the beach, and then passed out. He had made it to the island of Kephalonia, again at the worst possible time.

Greece was under Axis control, and its resources were being plundered while its people were being starved to death – those who weren't killed outright. It's estimated that 13% of the Greek population died from hunger alone, so those who found Capes rebelled in the only way they could.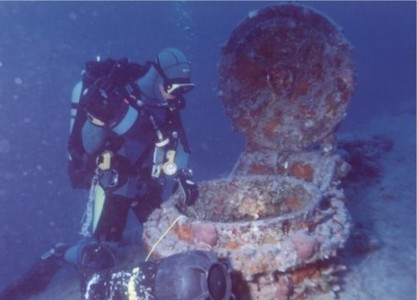 They hid him, even though they put their entire families at risk by doing so. He was kept hidden in caves, moved from house to house, and given what little food they had left to spare. To blend in, he dyed his hair black and lost 70 pounds.

This went on for 18 months till he was finally smuggled out on a fishing boat and taken to Smyrna in neutral Turkey. He found shelter at the British consulate that finally sent him to Alexandria.

Capes died in 1985 with a pall of suspicion hanging over his allegedly heroic deeds.

It took Greek archeologist, Kostas Thoctarides, to validate Capes' story. On 26 December 1997, Thoctarides led a dive team that discovered the remains of the Perseus.

They found the open aft escape hatch, the open sluice valve, and the rum bottle on a torpedo rack – proof that Capes deserved his medal.





tags: submarine nathan finneman breed of speed breedofspeed colorado finneman hero ww2 amazing