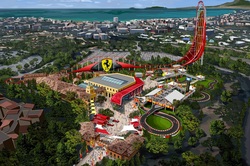 Bloomberg is reporting that Ferrari is planning to build a new theme park somewhere in North America. Currently, the Italian company has a park, Ferrari World, on Abu Dhabi's Yas Island and another under construction in Spain, with a third scheduled to pop up in China.

As it stands, the North American location remains unknown, or possibly undecided, but don't be surprised if the new Ferrari park winds up in theme park meccas Los Angeles or Orlando.

Regardless, expect the park to feature similar racing-themed attractions, including roller coasters, vertical acceleration towers, and virtual test tracks, much like the aforementioned Ferrari World in Abu Dhabi.

Stay tuned for more on the new North American Ferrari theme park.