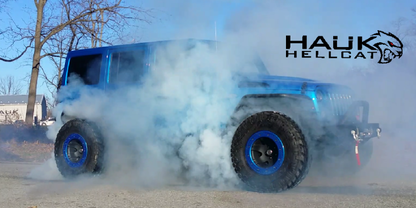 Jeep unveiled a Hellcat-powered Wrangler concept today, and while it's incredibly cool, it will unfortunately never see production. But if you had your heart set on a 707-horsepower Wrangler, don't despair. We found a dealership in Altoona, Pennsylvania that will gladly sell you one. Hell, they've got two of 'em!

We're not exactly sure how this particular dealership ended up with two Hellcat-powered Wranglers, but we do know they come from a Pennsylvania shop called Hauk Designs, which showed its first Hellcatted Wrangler at SEMA last November.



According to the spec sheet, each Hauk Hellcat gets a Hellcat engine good for 707 horsepower, 650 lb.-ft. of torque, flexing through a Mercedes-Benz 5G-tronic automatic transmission, a 4:1 transfer case, and 4:10 gears and locking differentials front and rear. The spec sheet also includes a sport-tuned suspension with Bilstein performance shocks, upgraded Teraflex brakes, J.E. Reel driveshafts, and big 35-inch tires on 17-inch wheels.