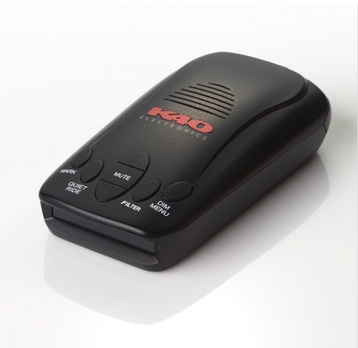 Breed of Speed recently got the privilege to test the new K40 Electronics RLS2 laser/radar detector. As usual with any product I was skeptical, lets be real, there are dozens of company's out there that claim a product does one thing, when in reality it does another. Not to be rude but I expected this to be just another radar detector that picks up a cop when it's already too late. I was wrong, very wrong.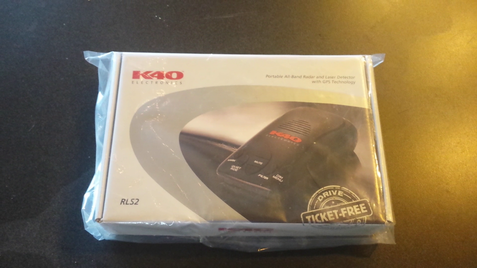 But first lets start with the quality, I tend to take a product basis of quality just from how it comes from the company. The box was packaged and laid out nicely. It was simple and straight to the point.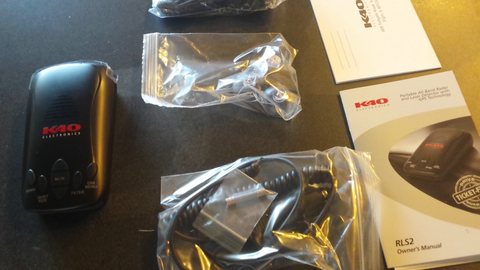 I like when a layout of a product is easy to figure out and not just bundled into one big grouping of complexity. The last thing one wants to deal with is figuring out which part goes where. This was convenient and simple. The package came with the usual owners manual, registration car, detector, power cord and mounting suction cup.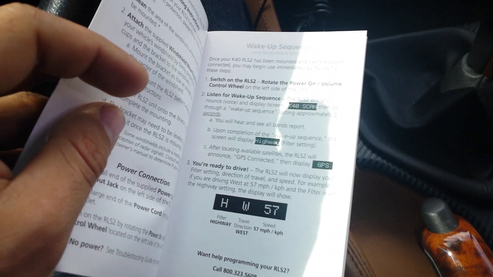 The owners manual was easy to read, laid out all the options needed. Frankly the detector itself is so incredibly easy to use, one could easily go without the manual to use it. However there are some pretty amazing features in this little detector. Which are clearly laid out.
After installing the RLS2 and powering it up, it did the usual radar detectors chime and symphony of digital sounds. Then it did something I'm not use to in a radar detector. It prompted GPS connected. This was a first for me and I was intrigued. Turns out when its connected to a GPS it moniters your speed, marks typical police positions of speed traps are at and remembers these for future references. That was an aspect that definitely took it up a notch. Now it was time for the actual test drive.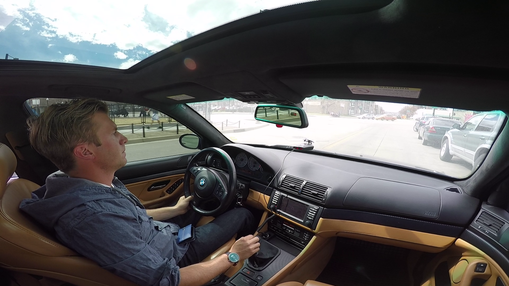 Denver Colorado has it's share of both speed cameras and speed traps conducted by officers. My goal was to go out and find a couple of these bundles of frustration, for us speeders. The car of choice was my 2001 BMW M5, something that tends to entice me to go beyond the speed limit. Now the great thing about this detector is the options it offers, you can do City mode, which makes detection less sensitive. Highway mode inhibits more sensitivity to K-Band and Laser. The great thing is, a cop has both a handle held speed monitering system as well as one built into the car that is constantly running. This detector picks up both, shows the direction in which the signal is coming from, and displays the speed in which you are driving.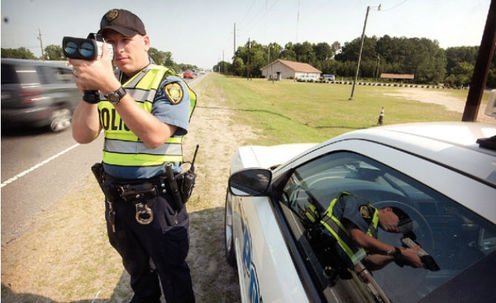 Today's preferred choice of speed measuring by officers is usually Laser. Laser has been a challenge for speeders due to one aspect, if the officer tags your car, your speed is returned to the cop's speed gun instantaneous. Unlike K-band which had a delay.
Now this is where the RLS2 was put to the test. I knew of a speed trap in the area, where officers usually hid behind a pole and ran laser at an area where drivers usually sped. Sure enough as I drove by there he was (photo was just an example). So I drove down a good distance, turned on the RLS2 and turned around in the path of the officer. I expected the detector to go off an warn me as I got closer, but after I turned it on it was already warning me, and I was surprisingly quite far away from the speed trap. I drove in his path, 1/4 mile away, the radar detector was going off like crazy. It showed both the direction of the officer, aswell as what he was shooting with. This is where I was impressed, I couldn't believe how far away I was from the speed trap yet the detector was going off as if I was right next to the officers.
Now the last test was to find a cop not running a speed gun but driving in his car, as most detectors will not pick up on this. It took me a few minutes but I spotted a cop driving onto the highway on ramp. I was maybe less than 500 yards behind him and the detector was warning me of K-band and the intensity aswell. I was downright impressed.


So whats our verdict on this little guy? For the price of this detector compared to the cost of a speeding ticket today? There's not doubt this is the route to go. Its easy to use, it gets the job done, and comes with features that sets it a bar above the rest. Of course with pro's comes cons to everything. I didn't like how the detector didn't have auto-power down when I turned my car off that would of been nice, Items such as it seemed to pick up signals of a cop when there was none in sight came into play even with sensitivity turned down. However these are quite minor aspects to consider. I frankly would rather have a overly sensitive detector than one that doesn't pick out a cop parked directly behind you. The product is great, the support team behind the product is even greater. They really are on the ball. It's easy to use, its powerful, and its nice to have that security when your going a few mph more that you should. Oh yeah did we forget to tell you, that K40 guarantee's you drive ticket free, if you get speeding ticket they will pay it.
Well done K40, we approve. -Breed of Speed