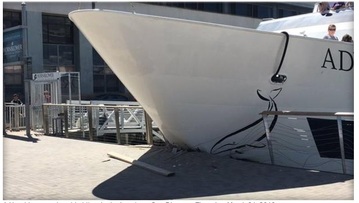 SAN DIEGO --Several people were hurt when a bay cruise boat crashed into a dock in downtown San Diego on Thursday afternoon,

San Diego Fire-Rescue officials said there were a number of injuries when the 150-foot Adventure Hornblower ship hit the G Street Pier shortly before 1 p.m.

Several potentially serious injuries were reported, Fire Capt. Joe Amador said. Some of the patients were carried off the vessel on stretchers, according to KFMB reporter Shannon Handy.