If you thought the 1LE was going to be the biggest, baddest Camaro on sale this year, then you'd be wrong.

The folks at Chevrolet have just dropped a new Camaro ZL1 and the car is packing a staggering 640 horsepower and 640 pound-feet of torque.

Just let those numbers sink in for a bit. Six hundred and forty horsepower… in a factory-built Camaro. All those horses are courtesy of the familiar supercharged 6.2-liter V-8 found in cars like the Corvette Z06 and Cadillac CTS-V.


Combined with the lighter, tauter chassis of the sixth-generation Camaro's Alpha platform, the engine should see the ZL1 easily put Ford Motor Company's [NYSE:F] Mustang Shelby GT350R to shame. We could even see the ZL1 embarrass some much more expensive metal. We're looking at you, Porsche.

We haven't got performance numbers just yet but expect the car to be significantly quicker than the previous ZL1, which ran the quarter mile in the 11s. That's because this new ZL1 has 60 hp more while also weighing 200 lb less. It's also got a trick 10-speed automatic transmission. The unit was developed together with Ford which plans to use it initially in its new F-150 Raptor. The good news is that a 6-speed manual with rev-matching remains standard.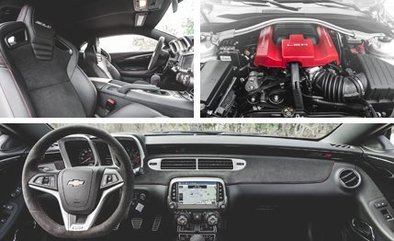 ut there's also loads of technology that should ensure the new ZL1 is not just quick in a straight line (you'll recall prototypes were extensively tested at the Nürburgring). The list includes magnetic ride control, an electronic limited-slip differential, performance-oriented traction control, launch control and a driving modes selector.



The car also gets massive Brembos with six-piston calipers at the front and four-piston calipers at the rear. You'll find 15.35-inch discs at the front and 14.37-in discs at the rear. These reside within 20-in wheels shod with Goodyear Eagle F1 tires measuring 285/30 at the front and as much as 305/30 in the rear.

Setting the Camaro ZL1 apart from the regular Camaro pack on the outside is an aggressive body kit that includes a large front splitter, wider front fenders and a rear wing spoiler. We're told the car also features some underbody aero elements. There's also the "Flowtie" open front grille and a functional heat extractor in the hood. Inside the cabin, there's a pair of Recaro bucket seats and a flat-bottom steering wheel lined in suede.

That's all Chevy has to tell us right now but we look forward to learning more about the latest ZL1 following its world debut next week at the 2016 New York AutoShow. You can keep up to date on our coverage of the show by staying glued to our dedicated hub.