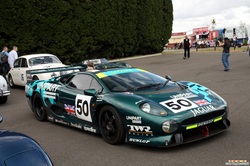 Fast Masters was a made-for-television auto racing series, broadcast on ESPN in 1993 that featured notable drivers over the age of 50, most of whom were retired from professional racing at the time. The Fast Masters series was a summer-long elimination competition, with identically-prepared, $750,000, TWR, Jaguar XJ220s racing on Bridgestone RE71 high-performance street tires. The races took place under-the-lights at Indianapolis Raceway Park, in conjunction with ESPN's Saturday Night Thunder. The cars carried the sponsorship of Havoline, and the series was officially sanctioned by USAC.

Close and intense racing ruled each night as championship winning veterans from Formula One, IndyCar, NASCAR, NHRA, Endurance racing and more, some who were well into their 70's, fought hard for every position. Considerable attention focused on the event, as many came out to witness the impressive and unprecedented lineup of legendary drivers.

Three-time Indianapolis 500 winner Bobby Unser won the championship, claiming the $100,000 top prize.