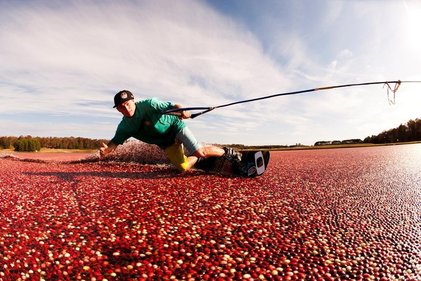 Red Bull Winch Sessions explores what can happen when you combine high-powered winches with action sports such as snowboarding, wakeboarding, paragliding, and more.

In this episide of Winch Sessions, Josh Tranby and the crew travel to the town of Tomah in Wisconsin, to create a visually stunning wakeboarding session in a cranberry bog. The song name is "909s and Half Minds" by Jack D. Elliot.

Before harvest in Autumn, the irrigated fields where the cranberries are grown are flooded with between 6 inches to one foot of water, before a a harvester is driven through the waterbeds to remove the cranberries from their vines. The berries then float to the surface of the water, creating beautifully crimson carpets. The floating berries are then either pumped or conveyed to packing stations where they are sorted, cleaned and stored.

Prior to filming this episode of Red Bull Winch Sessions, Josh had never seen a cranberry bog, let alone wakeboard through one. "The Red Bull Winch has let us be able to ride something so unique, so different... you know, I never thought I'd be in Tomah, Wisconsin and winching a cranberry field."