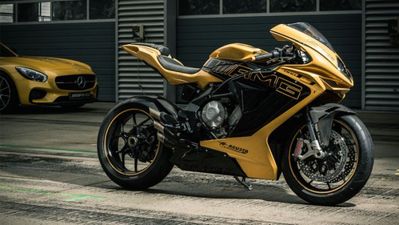 Would you like a Solar Beam MV Agusta F3 to go with your matching Mercedes-AMG GT, sir? According to the superbike manufacturer's president Giovanni Castiglioni, this could be a very real proposition in the not too distant future. At the recent launch of the new MV Brutale 800, Castiglioni revealed that Mercedes will start selling MV Agusta bikes from its car dealerships in a partnership that promises to be highly beneficial for both companies.

Ever since MV released its F4 750 in 1999 the company has been recognised as a premium manufacturer that produces some of the most exotic bikes on the market. However, with MV being a relatively small company, it has always required a certain level of external support to ensure its survival. This dependence became even more vital when MV's relationship with Ducati fell through in 2012, when the latter was acquired by Audi. As a result, this new partnership with Mercedes - the German car manufacturer purchased a 25 per cent stake in MV Agusta in late 2014 - looks like a reliable lifeline for the Italian superbike manufacturer.



Mercedes also has plenty to gain from this partnership. BMW has earned a strong foothold in the premium superbike market with its technological showcase, theS1000RR. Ducati, with its ever growing line-up is also looking strong, no doubt helped by the solid investment from Audi. Not wanting to miss out on a piece of the action, Mercedes now has a solid route into this highly competitive segment.

Somewhat surprisingly however, the German automotive giant isn't taking the traditional route into the biking world. During his speech, Castiglioni revealed that 127 Mercedes dealerships across Europe will be selling MV motorcycles directly. This is a new approach that no other motorcycle manufacturer is currently utilising; BMW sells its bikes through a network of various Motorrad dealers (connected to BMW dealerships) whereas Ducati and Audi keep things completely separate. The obvious benefits for MV are that it will receive added cache by being aligned with a reliable and luxurious manufacturer, as well as saving money thanks to the fact it can rely on an existing distribution network.



With the added investment from Mercedes, MV is reported to be releasing six new models to help secure a bigger chunk of the market in 2016. And to celebrate the partnership, a run of limited-edition MV Agusta F3 800s with Mercedes Solar Beam paint will be released in September.