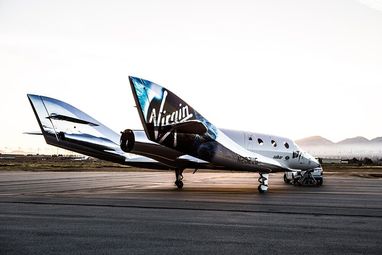 In the latest chapter of Virgin Galactic's space tourism story, Sir Richard Branson yesterday unveiled the company's newest version of SpaceShipTwo, called VSS "Unity." The craft is the result of a valiant effort by staffers to replace SS2 "Enterprise," which, after 55 test flights – four of them rocket-powered – broke apart on ascent Oct. 31, 2014, over the Mojave Desert.

After an extensive NTSB investigation, human error was determined to be the cause of the accident. Co-pilot Michael Alsbury was killed, and pilot Pete Siebold was badly injured.
Helping to choose the name for the new Unity vehicle was none other than renowned physicist Stephen Hawking, who plans someday to fly on it (Branson has given him a free ticket). Hawking, who suffers from ALS, or Lou Gehrig's disease, wasn't present at the Mojave Air & Space Port for rollout, but he did offer thoughts via a pre-recorded four-minute message to the hundreds of attendees including Branson and his family, actor Harrison Ford and singer Sarah Brightman.

"We are entering a new space age, and I hope this will help to create a new unity," said Hawking, 74. "Space exploration has already been a great unifier — we seem able to cooperate between nations in space in a way we can only envy on Earth. Taking more and more passengers out into space will enable them and us to look both outwards and back, but with a fresh perspective in both directions. It will help bring new meaning to our place on Earth and to our responsibilities as its stewards, and it will help us to recognize our place and our future in the cosmos — which is where I believe our ultimate destiny lies."


Branson, 65, was clearly moved by Hawking's interest in space, and responded. "We felt strongly that we should somehow make sure that Stephen remained a permanent part of Unity's story, because so much of what he stands for resonates with what we at Virgin Galactic aspire to be," said the billionaire. "So the Galactic Girl on the side of our proud Spaceship Unity now carries a banner using an image of Stephen's eye."Like the plan for predecessor Enterprise, Unity will be dropped from a mother-ship, light its rocket motor and carry six passengers and two pilots into space, considered 100 kilometers (62 miles) above sea level. The rides will be short and suborbital – ie, straight up and down – unlike ISS, which circles the Earth. Passengers will see the curvature of Earth and the blackness of space, while at the same time experiencing a few minutes of weightlessness. Current ticket price is $250,000.

VG's commercial flights will be the culmination of work from the turn of the century when SS2's predecessor, SpaceShipOne (built by Burt Rutan), flew pilots three separate times to space in 2004 to win the prestigious $10-million Ansari X Prize.

Other companies working on space tourism include Jeff Bezos' Blue Origin, which in January vertically launched its New Shepard vehicle unmanned into suborbital space and brought back the booster and capsule intact – and XCOR Aerospace, which is still in the development stages of its Lynx vehicle. Another company, World Sky View, is planning to take customers just above 100,000 feet in a balloon, technically not space but offering space-like views.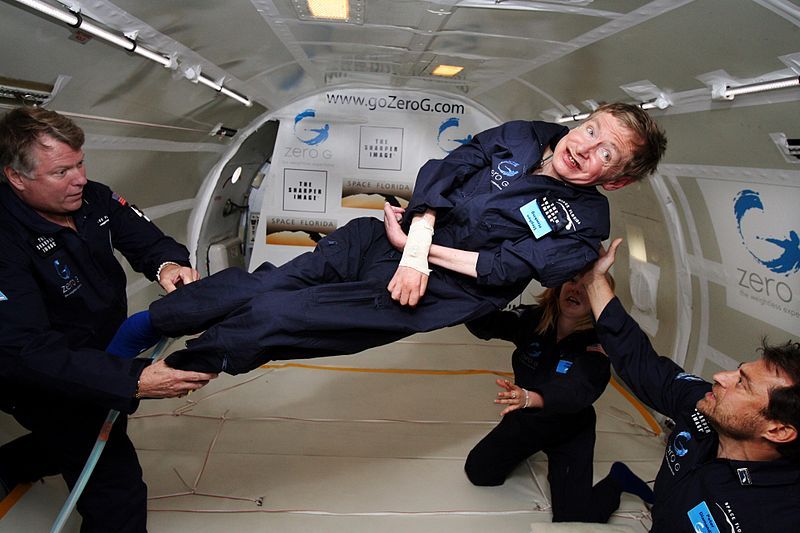 VG expects test flights of Unity to start later this year. Its 700 or so ticket-holders seem confident that they will become astronauts within the next few years, as is Hawking. "If I am able to go, and if Richard will still take me, I would be very proud to fly on this spaceship," said the scientist.

In the meantime,many future tourist-nauts are training for their flights in centrifuges and high-altitude supersonic MiGs, and on parabolic weightlessness flights over the U.S. and Russia.