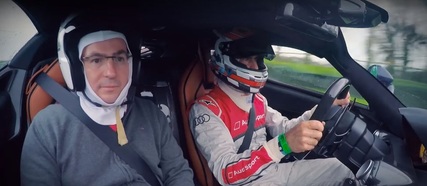 Nick Mason (yes, we're talking about Pink Floyd's drummer, not your neighbor who happens to have the same name) is the kind of man who invests a great deal of his fortune into his automotive passion. As a result, it comes as no surprise that the legend's car collection includes a LaFerrari.

What might surprise certain people, though, is the fact that, at age 72, Nick keeps learning. The most recent example of this saw him handing over the keys to his LaF to racing driver Emanuele Pirro.

Not only did the five-time LeMans champion get to flog the 950 hp (963 PS) hybrid, obviously on a track, but the drummer was riding shotgun at the time.

With the Prancing Horse's tail-happy rear-wheel-drive setup and the typical British weather, it's safe to say the two had quite an experience in the LaF. The only unfortunate side of it all is that the clip below is short, so we don't get the full taste of the memorable track stint that certainly taught Nick a thing or two about the limits of his machine.

The feat didn't happen by mistake, as today, January 27, happens to be Nick's birthday and the resulting footage was released by Goodwood Road and Racing as a celebration. What can we say? This certainly beats a Ferrari-shaped cake.

As for the Emanuele Pirro-related side of the story, it's nice to see this champion enjoying his time in a Ferrari halo car. This is quite a change from all the times we saw the man taking home the Le Mans title in Audis - he won the LMP900 class three times in an R8, as well as the top-tier LMP1 Class twice, behind the wheel of a diesel-hearted Audi R10 TDI.

This story brings us to the rumor mill talk about Ferrari returning to the LMP1 hostilities, but this is another story for another time.