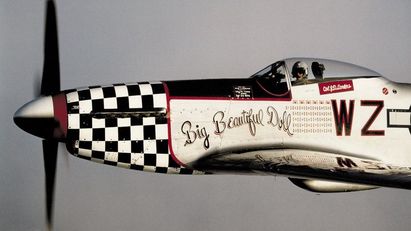 Multiple sources confirm the F-51D Mustang, Big Beautiful Doll was the aircraft involved in Friday's horrific accident south of Phoenix, Arizona.

According to multiple witnesses the vintage fighter plunged straight into the ground exploding into flames.

Sources also report the pilot was owner Jeffery Pino who walked away in 2014 from a belly landing dramtically captured on video by a TV helicopter crew. (Video Below)

Big Beautiful Doll was a 1944 P-51D model that was re-designated in 1948 as the F-51D.

Horsemen P-51 Flight Team pilot Ed Shipley once owned Big Beautiful Doll back in the '90's and provided the photo above and one below as he flew with the F-16 as a Heritage Flight.

The NTSB is investigating the cause of the accident.

------ original ----- MARICOPA, Ariz. (KSAZ) Authorities say a World War II-era plane has crashed near Papago and Ralston Road.

Mark Clark of the Pinal County Sheriff's Office said authorities were heading to the scene of the crash Friday to investigate. He described it as a small plane but didn't have further information on the occupants or whether there were survivors or injuries.

Federal Aviation Administration spokesman Ian Gregor said preliminary information on the crash indicated the plane was a P-51D Mustang, a type of single-engine American fighter used during World War II.

Gregor said the preliminary information indicated the plane caught fire after crashing.

The spokesman said the FAA and the National Transportation Safety Board will investigate the crash.