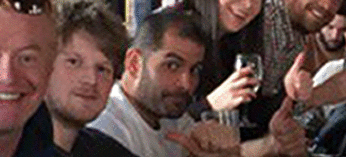 Oh look, here's Chris Harris hanging out at a
Top Gear
production meeting. I wonder if that has anything to do with anything.
The picture comes from none other than Chris Evans, the confirmed half man/half Wollyknottle Bird who will be
TG
's head host.
Who Is
Top Gear
Host Chris Evans? An Explainer For Confused AmericansWho is Chris Evans, the new lead host of the popular British television programme Top Gear? Here's…
For those of you not familiar with Chris Harris, he's a small man who lives in a hut in Wales, likes to hang out in the dirt, and may or may not be a hobbit.
He hosts
a popular YouTube programme
.